The gaming chair is the basic requirement for a gamer. gaming chair enriches the beauty of any youtube studio. a good comfortable chair provides a luxury. To accomplish any mission or to get chicken dinner in PUBG. a quality chair makes a huge difference while doing gaming or performing any major task. if you have spent more money on your device or computer then you should spend some money on the gaming chair as well.
FANTECH Alpha GC-184
Materials are the main element. which makes an entire gaming chair. the luxury of a chair fully depends upon its quality of the material. Fantech is well known for its excellence in the gaming chair. Alpha GC-184 is the best option for gamers to choose from. the chair has a smooth caster which makes it easier to move. The chair comes with a lumbar pillow that enhances the comfortableness of the chair. it comes with the head pillow too which is best for resting your head in it. Some advantages, as well as disadvantages, are listed below;
Advantages
Smooth caster
Steel base
lumbar pillow
Head pillow
Height adjustable
Full multi-action recline capabilities
Multi-functional tilt
Class 4 Hydraulic piston
Price 50,000
Disadvantages
There aren't many disadvantages of this chair however take care of the wheel. because the wheel may get broken in case of overload.
FANTECH Alpha GC-186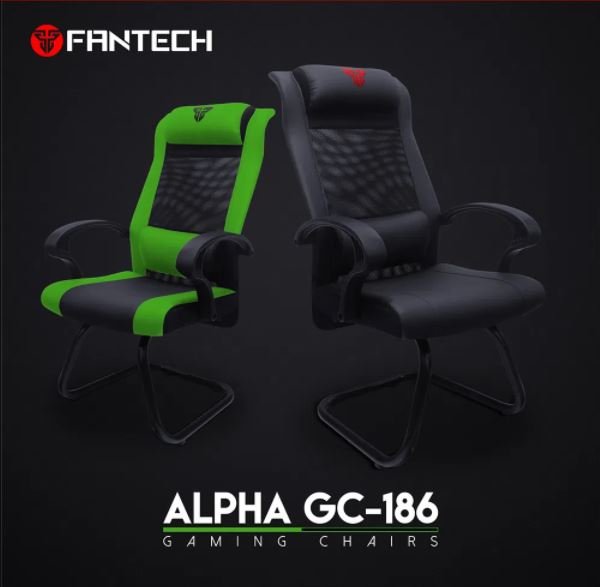 The wide seat and best Cushing are comfortable. the chair is an outstanding item for any gamer. The chair has the capacity to resist load up to 300kg. it has a thick head and lumbar backrest. in this chair, you can do gaming for a long period of time. it's very easy to wipe or clean. the chair is made up of high-quality material. it is perfectly balanced and very durable. the chair is the best value-for-money product. The advantages and disadvantages are listed below
Advantages
Thick head and lumbar backrest
Resist up to 300 kgs load
Large seat and backrest
High-quality leather seat
easy to wipe and clean
total height from floor 108cm
floor to armrest 66cm
Disadvantages
The chair is value for money . however you can listen little amount of noise from the chair after some years.
Price 20,000
FANTECH Alpha GC-181
Fantech is well known for bringing a revolution in the field of gaming chairs. alpha GC-181 is another model of chair that is suitable for beginners who are involved in gaming lines or for the pro ones too. the chair is very attractive with the chromatic wheels which catch the eyes of every person. it has a lumbar pillow with targeted support. it comes with a 2D arm that is adjustable in height and angle. The chair is absolutely a good choice for every gamer. the advantages and disadvantages of the chair are given below;
Advantages
Matching pillow for head and neck support.
class 4 heavy-duty gas piston
90 to 130 reclining (infinity locking position)
chromatic wheels
lumbar pillow targeted support
2D arms adjustable height and angle
Price 50,000
More
Above given chairs are available in the Nepali market and they well know brands popular all over the world. however, there are some other options for you if you are looking for a more economical gaming chair. but the sad part is the other chair are not much popular brand. but the price of these chairs is relatively low in comparison to the expensive brand chair. if you are looking for an affordable chair. then you can go with these options too.
DL 40 Executive Chair
well, this is not a gaming chair but if you are looking for a comfortable chair in which you can do gaming. this is a good option. many people prefer this chair because of its comfortableness. it is made with high-quality material. it is very flexible comes with height adjustment and a 360-degree swivel. you can go with this chair too.
Price 8,500
188 Mesh chair
this is an affordable chair and it has multi-purpose. you can use it for your study as well as gaming too. it's comfortable and lite weight it has a height adjustment lever, 360 swivels,s and back tilt.
For More informations Click here
Follow us on