Are you bored with the same tools that are available in your kitchen for decades? There are so many kitchen tools here to help you with your day-to-day kitchen work. you can save precious time using these kitchen gadgets. they are easy to use and less time-consuming. get your self these gadgets for easy kitchen works.
Sharp shield gloves
there are various kinds of gloves available in the market. that claim to be an effective shield for sharp cuts but the reality is different. But sharp shield goes through lots of testing that's why it is very effective than others. The materials used for making these gloves are copper and fiber the glove is cut resistant. with the help of this glove, you can cut your favorite vegetable and fruits very easily. the glove has up to level 5 resistance
Garlic peeler
When it comes to pulling the garlic it is considered as toughest and time consuming work. garlic enhances the taste in every food but peeling it is a difficult task. the garlic peeler is a life-changing tool for you if you want to save your time and effort. because within a second you can have your garlic ready. To use this tool, you have to put garlic pieces into the hole and rub it with two hands on the ground surface or table. boom now your garlic is all set for any uses. now you can cook your dishes faster.
Automatic Dish Scrubber
Washing plates and dishes can be a difficult task. it consumes lots of time. you need to spend more time cleaning dishes if you don't have a proper tool for it. the automatic dish scrubber is an extraordinary tool you can clean your plates in less than a second. isn't that's amazing. now you can focus on your work because the dishwasher is going to make your life very easy. it is very easy to use you can set time and mode. there are three brushes which clean every kind of dish. It is powered by a battery. the full charge battery can last up to 40 minutes.
Starfrit Easy Fries
This is a life-changing tool for everyone who loves potatoes and fries. Cutting the fries with a normal knife can be time confusing and you need to put more effort. The starfruit easy fries make your life simple all you need is to put your potatoes and press gently. your fries will be cut in less than a minute. you can make as many fries as you love. apart from potatoes, you can also cut other veggies too.
Chopped sallet
Making a complete sallet in few minutes is very difficult. chopped sallet tool will help you make your sallet ready within seconds. it is just like a cutting paper with the scissor. the design of this tool is just like a scissor and it is very convenient to use. all you need to do is just put your ingredients into one bowl and chop it with the tool. your sallet will be ready. the tool is made from high-quality material. The blade of this cutter tool is made of stainless steel.
Slice Right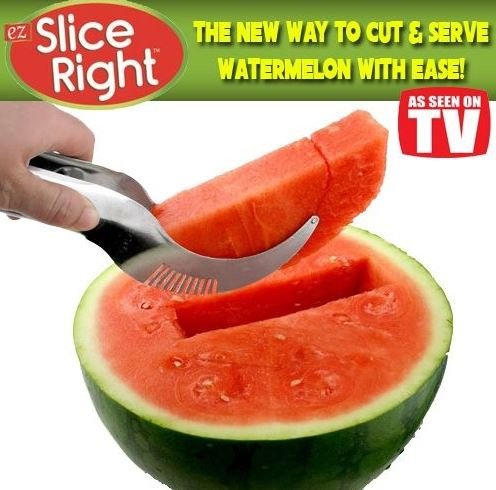 Summertime and we can't skip the watermelon. but cutting and serving the perfect watermelon can be difficult sometimes. manually cutting with the knife can be little. more time-consuming. if you have these problems then slice right is a perfect tool for you. it makes it easy to cut watermelon slices. you can also serve the watermelon with the tool.
Vegetable Chopper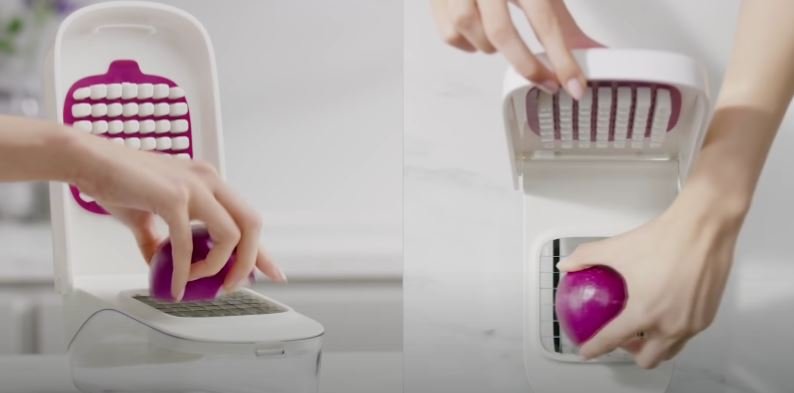 If you are tired of cutting vegetables with a knife then this tool will help you a lot. it saves lots of time. it is made from high-quality blades and plastic materials. within a seconds you can have your vegetable chopped with the help of this tool. it has a perfect grip at the bottom size. it's easy to open and close. it's very easy to clean after use. it minimizes the mess in your kitchen.
Potato Ricer
This tool will help you to mash the potatoes. this is an amazing gadget that will help you in making your food very fast. all you need to do is put some potatoes into the tool and squeeze the handle gently. in this way your potatoes will mash very easily. not just potatoes you can smash other vegetables too. it is very easy to use. this gadget will help you a lot if you are always in hurry.
Soap Dispensing Bottle Brush with Stand
We all use bottles in our daily life. bottles play an important role in keeping hydrated all the time. but cleaning the bottle can be a difficult task. it's hard to wash the bottles perfectly. with the help of this gadget, you can clean your favorite water bottle in less than a minute. it is very easy to use. this tool will clean your water bottle very gently. in the handle of this tool, you can see a soap tank and a button and when you push the button the soap will reach the bottom brush. in this way, you can clean your bottle very fast. to keep the brush, there is also one stand
Can opener
In our kitchen, there are lots of steel can. and opening those cans can be a difficult task without a perfect tool. with the help of this gadget, you can open any can very easily. all you need to do is put the tool into the can and roll it gently. in this way, your can will be open.
Bolo knife
Cutting vegetables with a knife is very time-consuming and there are high chances of getting hurt by the knife. bolo knife will cut your vegetable very fast and there are no risks. you can cut your vegetables in less than a minute. this is a life-changing tool. the blade of this tool is very fast. you can cut any kind of vegetables and fruits with the help of the gadget. get your bolo knife now and start easily cutting vegetables.
For more kitchen tools click here